Welcome to the Bobby Fischer Center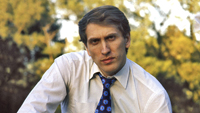 In the mind of chess players, Robert James (Bobby) Fischer is the most famous chess player in the history of chess.
In the summer of 1972, he won the World Championship in the match called the "Match of all Time" against Boris Spassky in Reykjavik, Iceland.
Since 1948, the Soviet grandmasters, Botvinnik, Smyslov, Tal, Petrosian and Spassky had kept the title of World Champions.
The Bobby Fischer Center in Selfoss is the first chess museum in the Nordic Countries.
Only former World Champions Emanuel Lasker (Germany) and Max Euwe (The Netherlands) have their own museums.
Fischer's grave in Laugardælir is only a few hundred meters from the Bobby Fischer Center in Selfoss.
When Bobby was stalemated in jail in Japan in 2005, his Icelandic friends helped him.
He died as an Icelandic citizen in Reykjavík in January 2008.
Bobby Fischer will rest in peace in Selfoss forever and all Caissas lowers will remember the greatest master of the Royal Game.